The department is responsible for providing the appropriate technology to various customers as the staff necessary to the realization of any television event in any part of the world.
At the head of the division, responsible for all commercial aspects of the company, Natalino Pintabona, experienced manager for more than 20 years in the television business that in these period created for NVP a major international clients portfolio.
Sky, Mediaset, Rai, La7, Eurosport, Al Jazeera Sport, Dorna Sports, Ducati, Endemol, Magnolia, BBS, NTV Spor, Infront are just some of the Major Customers that every year entrust their productions to the company.
NVP has been moreover envolved in the thematic Juventus Channel, fully realizing design, implementation and switch-on, as well as the important consulting for the thematic channel in economics and finance Class-CNBC.
Just in the last two years, NVP has provided both technologies and staff in carrying out, production and transmission of exciting events such as the football Champions League Final in Berlin, countless of the Italian football championship matches Serie A and Serie B,the football Italian Cup Final in Rome, World Superbike Championship, MotoGp races, The Mediterrean Games, Italian Open Golf, Tennis Atp Masters 1000 ,in Rome in addiction to numerous docufilms, commercials, theater performances and concerts
NVP can provide 4 high quality, Obvans, according to customer needs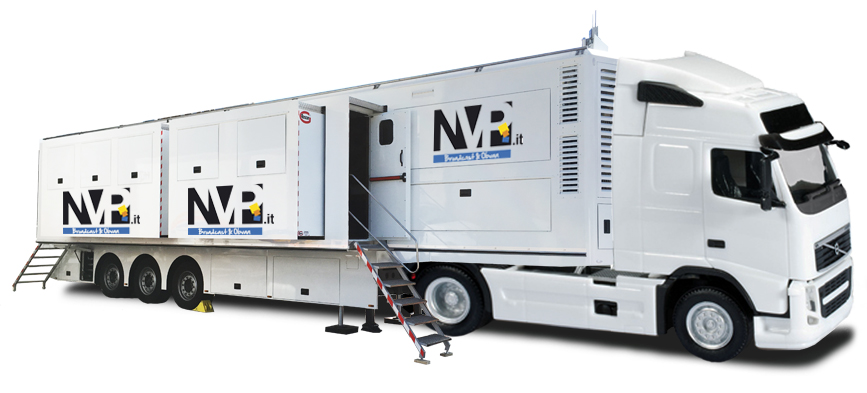 ObVan 4, "Gentle Giant"
Newcomer and flagship of the fleet is the OBVan 4, triple expansion truck managing 8  LDX86 4K cameras and20 LDX80 full HD cameras simultaneously Dolby E, 12  replay stations, 6 Producer positions.
Two video and two audio control rooms managing completely separated all sources able to supply any type of production, Host signal and National integration onboard.
By the genius Ivan Pintabona, NVP Technical Manager, with knowledges, and well-known ability to insiders, was born after a long, expensive and ambitious project this  "Gentle Giant" that definitely ranks among the most advanced mobile production units in Europe
Besides the 4 OBVan, NVP also has a "Fly case" control room that supports 8 cameras LDX latest-generation full HD, Dolby E, 3 replays stations and 3 Producer positions.
Additional amenities include two Avid Media Composer 8.5 and the possibility to perform Color Correction with DaVinci 4K as well as a 8 propellers Drone, dual GPS and safety parachute.
3d studios and graphic processing for the realization of TV studios and scenery .
Engineers, cameramen, producers, all of them perfectly coordinated by the experience of Anna Bongiovanni, make this division as the perfect man-machine combination to be prepared and successful.